Overview
Camden Council has prepared the final draft Kentish Town Planning Framework and wants to hear your views on the future of the area. The public consultation is now open and will run until 29 January 2020.
The consultation is open to local residents, businesses, landowners, people who work in the area, community groups and anyone with an interest in the area.
The planning framework sets out ambitions for 2,000 new homes, 3,000 new jobs, new connections including a new green pedestrian and cycle link between Kentish Town and Hampstead Heath and new community facilities all as part of a characterful and environmentally sustainable neighbourhood.
This consultation follows two earlier rounds of public consultation, which has helped us develop the framework. The purpose of this final stage is to enable you to see how the document has moved on since the earlier draft, with a final opportunity for comments before the framework is adopted as a Supplementary Planning Document.
The framework will be a key guide to shape future development proposals in the area and will be used in Council decision making, such as assessing planning applications.
The final draft framework document is available to view via the link below under 'Related'.
Please review the draft framework document and give us your final comments via the link below.
Kentish Town Planning Framework Area Map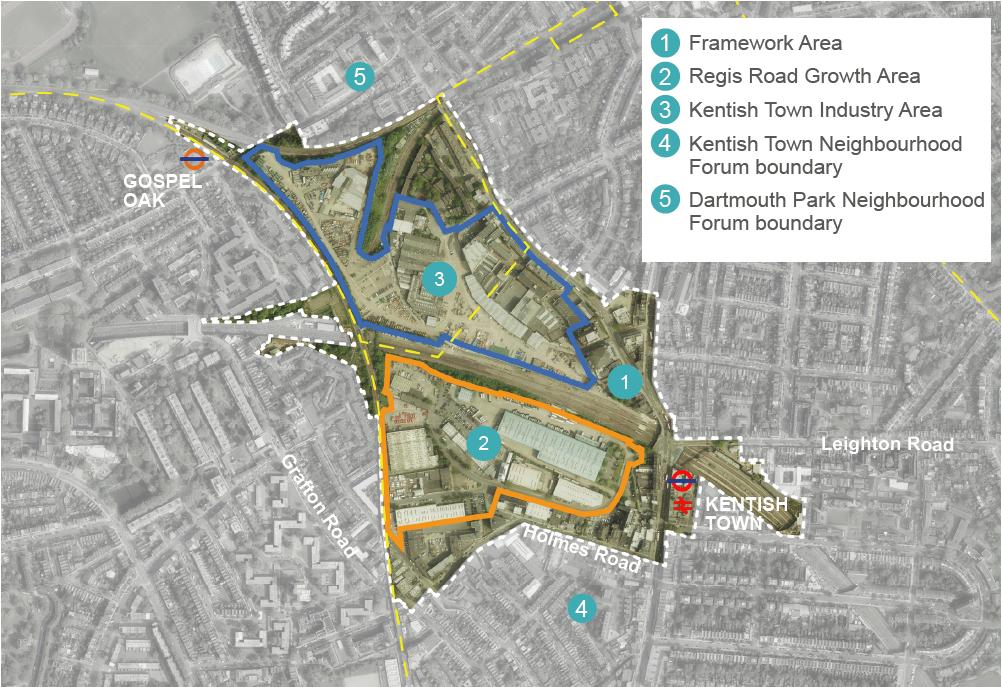 Next Steps
Once the consultation closes on 29 January 2020, we will take into account all of the responses we receive. We will then update and finalise the planning framework and intend to adopt it as a Supplementary Planning Document in early 2020.
Have a question?
Email us at kentish.town@camden.gov.uk or telephone 020 7974 4703
If you or someone you know needs help understanding this information including language or any other special requirements please let us know.
What Happens Next
The views expressed in the consultation will be published in a report and available on our website at www.camden.gov/kentishtownframework.
The final draft of the framework will be considered by the Council's Members for adoption as a Supplementary Planning Document (SPD) in 2020.