Why your views matter
High Speed 2 (the new railway from London to Birmingham, and further north) is currently being built. To enable the railway's London terminus (which will be at Euston) to be constructed, parking for permit holders around Euston station has been reduced. In line with our agreed approach, this level of impact on parking is considered as a material change to trigger a review of the CPZ in which Euston lies (CA-G).
While it is recognised that the impact of HS2 is mainly around Euston Station, as can be seen in figure A, we are reviewing the entire CPZ as we do not make street by street changes to parking restrictions. This is to avoid having a complicated CPZ system, which would be difficult for motorists to understand and for us to enforce.
We are seeking your views about making changes to the hours of operation of the CPZ. The area of CA-G (and neighbouring zones) is shown in Figure A below.
Figure A: The Area of CA-G and Neighbouring Zones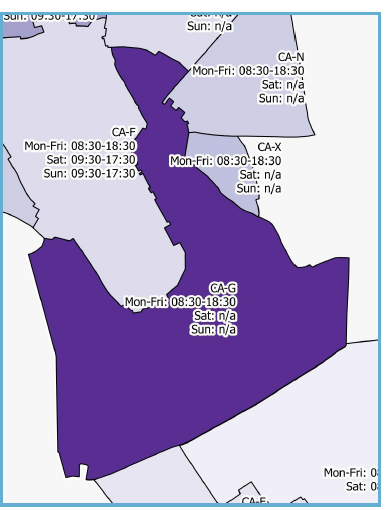 *The Healthy Streets Approach focuses on creating streets that are pleasant, safe and attractive, where noise, air pollution, and other barriers to people using streets actively are reduced.
Figure B: Map showing HS2 area in CA-G CPZ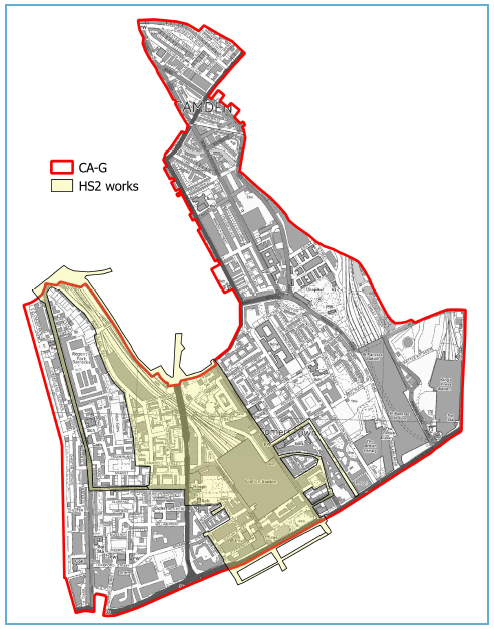 Additionally, the new Camden Transport Strategy 2019-2041 commits to delivering the 'healthy streets' concept across the borough. We are therefore also using this opportunity to seek your views on measures to the kerbside that could be implemented in CA-G that help deliver healthier streets, and reduce the dominance of motor vehicles, especially the most polluting vehicles. Further information on Healthy Streets is contained in the Camden Transport Strategy 2019 – 2041 which can be found on the council website.
We are preparing to implement double yellow lines at all junctions in the borough to improve opportunities to cross at side roads, particularly for people with mobility impairments and improve sight lines for all vulnerable road users. Figure C shows an example of a junction with double yellow lines. In this consultation we are inviting you to tell us anything you wish the Council to consider before the implementation starts.
We would also like to know whether you wish to have secure on-street bicycle parking (bike hangars) and electric vehicle charge points on your street. This is to facilitate a switch to more sustainable travel and less polluting vehicles. Figures D and E show examples of bike hangars and electric vehicle charge points.
Figure C: Example of a junction with double yellow lines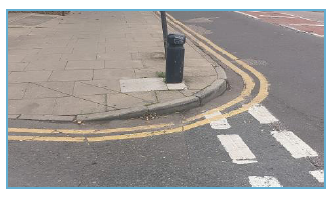 Figure D: Most common types of electric vehicle charge points in the borough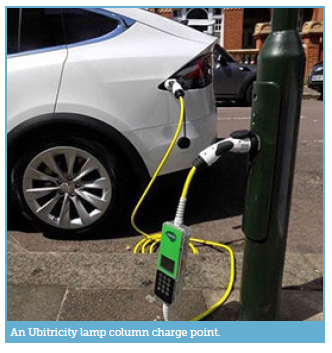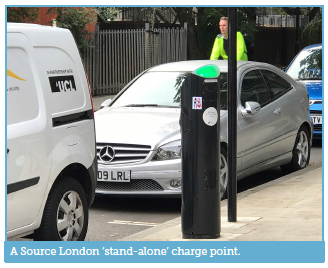 Figure E: Example of a bike hangar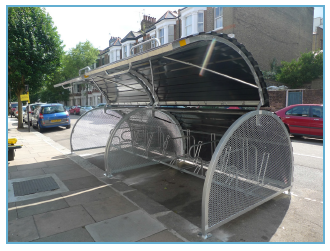 What has happened so far?
To inform the development of the questions in this consultation relating to the CPZ hours of control, an engagement exercise was undertaken with local groups in the CPZ with a survey undertaken in December 2018 and a local groups meeting held in January 2019. Respondents were asked what they thought about the length of controlled hours. The results of the survey exercise are as follows:
Only two groups responded to the survey, both of whom felt that the current hours of control (Monday to Friday 8:30am to 6:30pm, with no controls over the weekend) were 'about right'.
However, at the local groups meeting, attendees stated that the current parking controls around Euston Station, particularly at the weekends, were not adequate. The main reason given for this was a combination of the removal of parking spaces for HS2 works and non permit holders (such as those taking the trains) coming into the area by private cars.
This is an opportunity to give your views.
How to respond:
Please read all the information in this booklet and submit your answers to the questions by 27 March 2020.
Responses can be submitted in the following ways:
Option 1 Online: submit your response by answering a series of consultation questions and providing your comments using the online survey tab below,
Option 2 Email: You can submit your response to the consultation via email to: cag-consultation@camden.gov.uk
Option 3 Post: Send your response using the following freepost address (no stamp required) FREEPOST TRANSPORT STRATEGY, Transport Strategy Service, 5th Floor, 5PS, London Borough of Camden, Town Hall, Judd Street, London, WC1H 9JE