Overview
In partnership with UCL we want to trial changes on the northern side of Gordon Square outside of the Institute of Archaeology.
Together we're proposing the following:
Closing the road in front of the Institute of Archaeology to traffic (except cycling) using

planters between Gordon Street and Taviton Street

A

dding a two-way cycle lane for safe and easy cycling through the area and to UCL

Creating a new space for people to enjoy with plants, seating and some bike parking. We would also provide things like a small platform for exhibitions and table tennis

Biodiverse planting, sustainable furniture and incorporating habitats for pollinating insects.
These changes are part of our work to make streets across Camden safer and healthier. We want to improve the area for people who live, study and visit the area by making this street a more attractive place to stop, rest and enjoy. We also want to improve the local environment and air quality by making it a place for people and through planting. 
We anticipate these changes to be the first of a number of improvements in the area over the next 5 years. We plan to observe how the space and surrounding area is used and develop it overtime. We may make further changes, subject to public consultation, if appropriate.
The image below is an example of what the area could look like - for more/bigger images refer to the PDFs in the related documents section at the bottom of the page.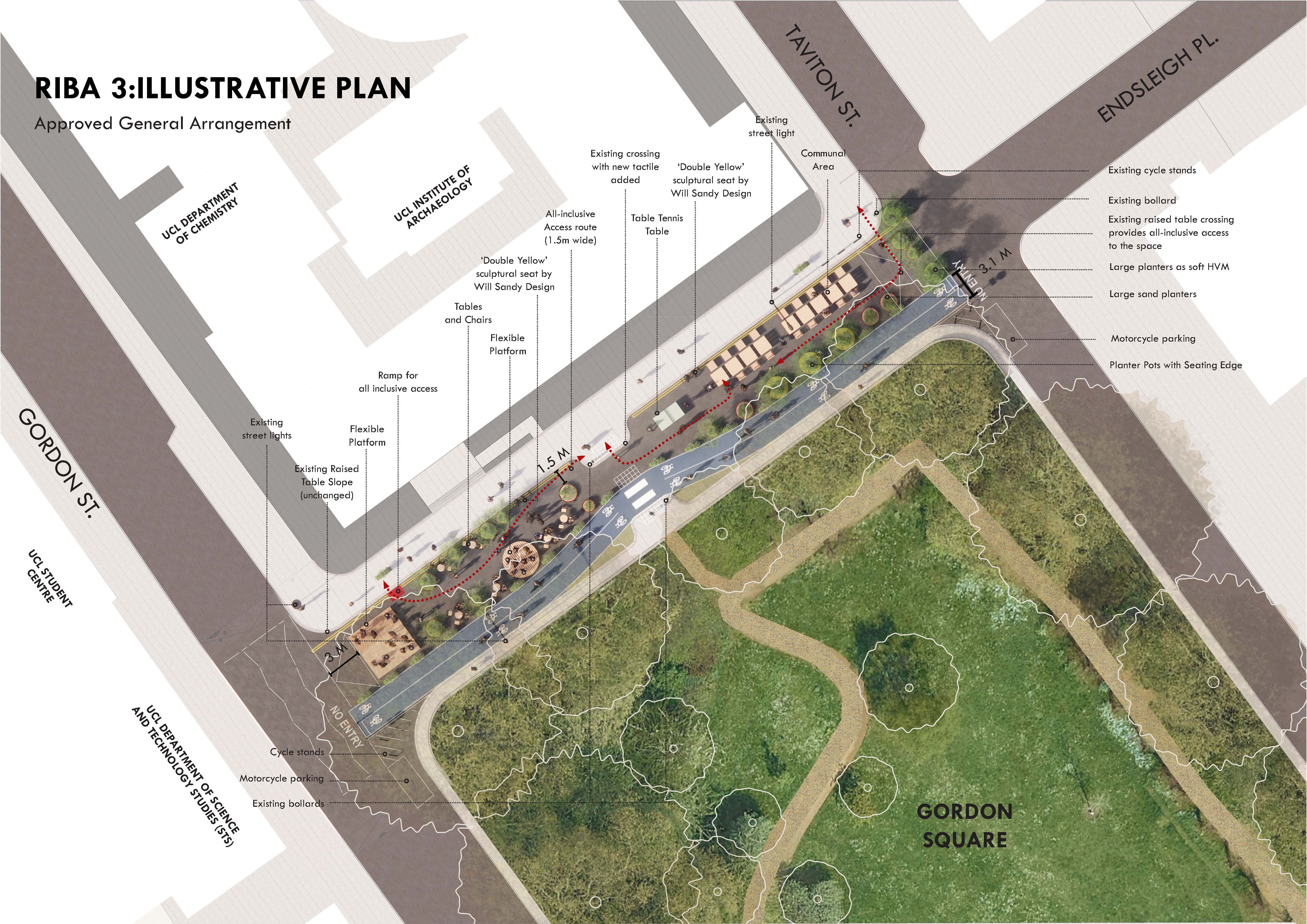 Why your views matter
We want to hear from you about what you think of these proposed changes. 
The final decision on whether to go ahead with the trial will be made based on evidence including the consultation responses, relevant policies, officer observations, and other data/information including monitoring information collected to date.
What happens next
After the consultation, a decision report will be produced and published online via our website. Local residents and stakeholders will be notified of the outcome. The report will consider a broad range of information including officer observations, consultation responses, feedback received during the trial period, relevant policies, and other data/information.