Overview
We are seeking your views on the Council's proposals to create a safer and more pleasant environment outside Acland Burghley School at Burghley Road and Ingestre Road, in particular to address the safety of students at the start and end of the school day. 
This follows concerns raised by the School regarding the safety of students and more specifically the need for safer pedestrian crossings (particularly at Dartmouth Park Hill and Burghley Road junction), wider footways and traffic calming. 
Students enter the school in the morning from the gate on Burghley Road (opposite property no. 104); a majority of these who walk to school arrive from Dartmouth Park (DP) Hill and Tufnell Park junction. In the afternoon, students typically leave the school through a different gate on Ingestre Road, from where most of them make their way through Burghley Road to Dartmouth Park Hill and Tufnell Park junction.   
Traffic surveys commissioned by us indicate that there are around 210 pedestrians per hour crossing Burghley Road (at the junction with Dartmouth Park Hill) during the morning school rush hour; similar numbers of pedestrians were observed in the afternoon too. Our site observations suggest that a significant proportion of this pedestrian flow can be attributed to students of Acland Burghley School.
A width restriction is currently in place on Burghley Road whereby the road is narrowed. While this helps in reducing speeds of vehicles and stops the very large vehicles accessing this part of Burghley Road, traffic levels are still significant as some drivers are using this road as a way to access Highgate Road avoiding travelling along Fortess Road.  In addition, congestion and poor driver behaviour have been observed outside the school. This can be partly attributed to:
 i.    On-street parking and loading activity in the section of Burghley Road between the width restriction and Dartmouth Park Hill.
 ii.   School traffic including students and school staff being dropped off as well as school deliveries. A typical driver behaviour that was observed was vehicles entering Burghley Road from DP Hill, dropping off passengers by the school gate and then U-turning back; pedestrians (mainly students walking in groups) were observed crossing the road on some occasions at the same time that the vehicles were undertaking the U-turn manoeuvre. Near-misses were observed. 
To address the above issues, the Council is proposing a number of  changes. We also hope that the proposals will help encourage more students to walk and cycle to school and reduce the volume of traffic using this road, especially in the busy morning period. The proposals detailed below are assigned numbers (1 to 9‰) which match the ones in plans A, B and C provided.
Ingestre Road:
1.  Widen the eastern footway on Ingestre Road where it is too narrow to accommodate large groups of students leaving the school and walking back towards Tufnell Park junction at the end of the school day. This is resulting in some students walking on the road. The widening will result in the loss of four resident parking spaces.
'2.  Provide four resident spaces on the opposite side to the school to compensate for the loss from above. There will be no net loss in parking spaces. 
Oakford Road:
ƒ3.  Existing car club bay on Burghley Road to be moved to outside of restricted area, on the southern end of Oakford Road, close to the junction with Lady Somerset Road. One residential parking space will be removed (shown on plan B) to accommodate the relocated car club bay. This location was selected following discussions with the Car Club company, Zipcar. 
Burghley Road:
"4.  Prohibit motor vehicles from entering the section of Burghley Road between Dartmouth Park Hill and Oakford Road during school term time, Monday – Friday between 8:00-9:00am and 3:00-4:00pm.  This is to ensure that the area is free of motor vehicles when students arrive and leave at the beginning and end of the school day. Vehicles already parked in this section during the restricted hours will be allowed to exit the section at any time, however they will not be able to re-enter during the same period. Pedal cycles will be able to enter and exit the section at any time. The restriction will be signed on the road - an example is shown in the picture below. The sign will be covered outside school term time.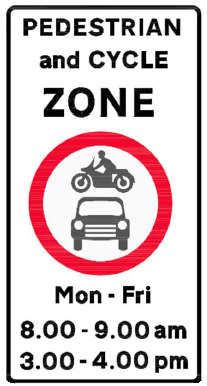 The restriction will be enforced through the provision of signs and by ANPR (Automatic Number Plate Recognition) cameras located at each end of the restricted area. ANPR cameras are automatic cameras. While they do record continuously, they will only create an evidence package (a video clip) if the vehicle or vehicles enter(s) the prohibited section during the above times of restriction. The cameras will only record and issue penalty charge notices during school term time and only during the period of restriction. The ANPR cameras will be located approximately where they are shown on Plan C. The exact locations will be subject to a survey to be conducted from the chosen camera supplier.
Similar "Healthy School Streets" schemes have been successfully implemented in other London Boroughs such as Hackney and Croydon. A similar road closure scheme outside St Joseph's Primary school on Macklin Street in Holborn has been trialled by Camden Council since July 2016 and so far positive feedback has been received about its operation, although this is operated by physically closing the road during the restricted period.
…5.  Retain the existing width restriction on Burghley Road and provide a safer informal crossing at this location. The road will be raised to footway level so that it will be flush with the footway, providing a level crossing point. 
†6.  The existing cycle stands by the width restriction (northern side of Burghley Road) are currently an obstruction to pedestrians trying to cross and we propose that they be relocated (as explained below in 7‡). 
‡7.  Widen the footway by the school gate and on the opposite side outside 108-106 Burghley Road. This will replace sections of single yellow line with double yellow lines. This is to keep the area free of informal parking and discourage the U-turns observed in the existing layout by reducing the road width. Cycle stands removed from proposal 6† above will be relocated on the widened footways. 
‡8.  Electric vehicle bay will be retained at its existing location.
‰9.  Widen the footway on both sides and raise the road at Burghley Road where it joins Dartmouth Park Hill.  This will reduce the crossing distance for pedestrians whilst stopping vehicles parking on the corners and reduce speeds of vehicles as they turn in and out of the junction. 
We consider that by reducing traffic movement in the area surrounding the school, the measures will improve safety for those walking and cycling in the area including students of Acland Burghley School. It is also anticipated that it will further restrict non-local traffic from using Burghley Road as a shortcut to/from Highgate Road. Finally, the scheme proposals will result in net loss of only one residents' parking space. This proposal is being fully funded by Transport for London and if approved it is expected to be implemented by April 2018. 
 
This is your opportunity to comment
The Council will be pleased to hear your views on the proposals we are consulting upon as well as any alternative suggestions or objections you may have to any aspect of the scheme. Please respond to this consultation by completing the survey below by 07/02/2018. 
The Council will be pleased to hear your views on the proposals we are consulting upon as well as any alternative suggestions or objections you may have to any aspect of the scheme. Please respond to this consultation by completing the survey below by 07/02/2018. 
Please Note: If you are responding on behalf of an organisation only one reply will be accepted. You must give your full postal address when responding to this consultation if you want us to consider your views. An equality and diversity form has been included -that is voluntary for you to complete and you may send it to us via email or using the above free post address along with your consultation response. Any information you provide will help us in making an informed decision on the proposals.
While it will not be possible to reply to you individually, all comments will be taken into account. At the end of this consultation exercise, a report will be prepared analysing the comments received and officers' recommendations. This report will be presented to Director of Regeneration and Planning who will make a decision whether or not to proceed with the scheme. Under the Local Government (Access to Information) Act 1985, your response is available for public inspection; however your personal details will remain confidential. Please only write to us about the consultation issue. 
Who is being consulted?
The following are being consulted: all properties within the consultation area outlined in blue on the plan below, Local and Statutory Groups, Emergency Services and Ward Councillors.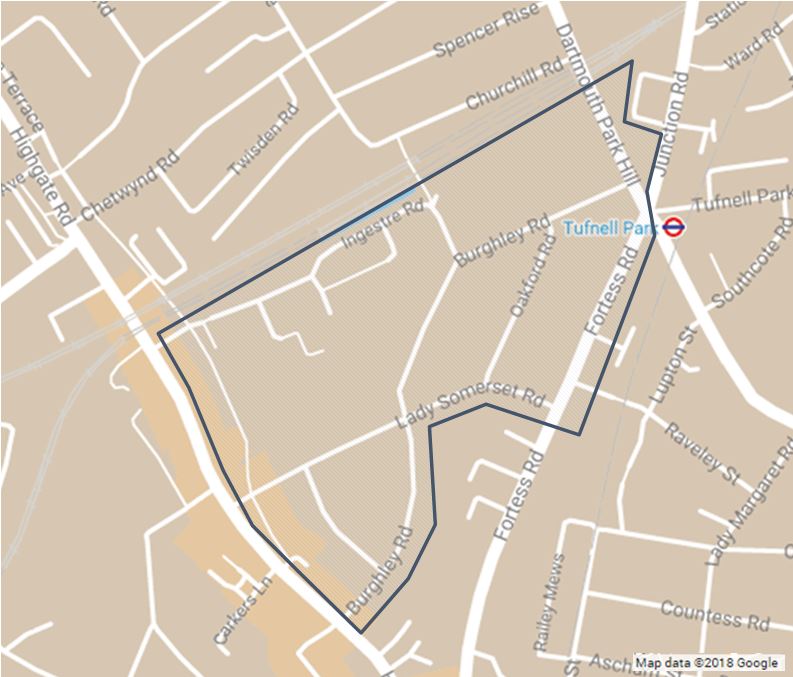 If you would like further information then please contact:
Michalis Karantanos 
Design Engineer
Transport Strategy Service
London Borough of Camden
Tel: 020 7974 5215
Simi Shah
Design Team Manager
Transport Strategy Service
London Borough of Camden
Tel: 020 7974 2066
                                   Thank you for replying to this consultation