Overview
We are seeking your views on the Council's proposal to install a raised table on Camley Street, close to the entrance of Camley Street Natural Park and St Pancras Cruising Club. This location is at the base of the new pedestrian / cycle bridge recently built by Argent Services LLP, that links Camley Street and St Pancras Gardens with the Kings Cross Development Area, which includes Granary Square, University of Arts and the new Coal Drops shopping development.
As a result of the above developments, the numbers of people crossing here is expected to increase as they use the new bridge to access the facilities in the Kings Cross development area. The Council is proposing to introduce a new raised table, which would slow vehicle speeds at this corner and provide a footway level crossing point for pedestrians wishing to cross the road, assisting those with mobility impairments or prams.  Presently, it is not anticipated that pedestrian volume will reach a level to require a zebra or signalised crossing facility. The proposed measures have been illustrated in further detail on the plan below. 
This scheme is being fully funded by a local developer as part of a section 106 agreement, if approved the raised table is anticipated to be built in Spring 2018.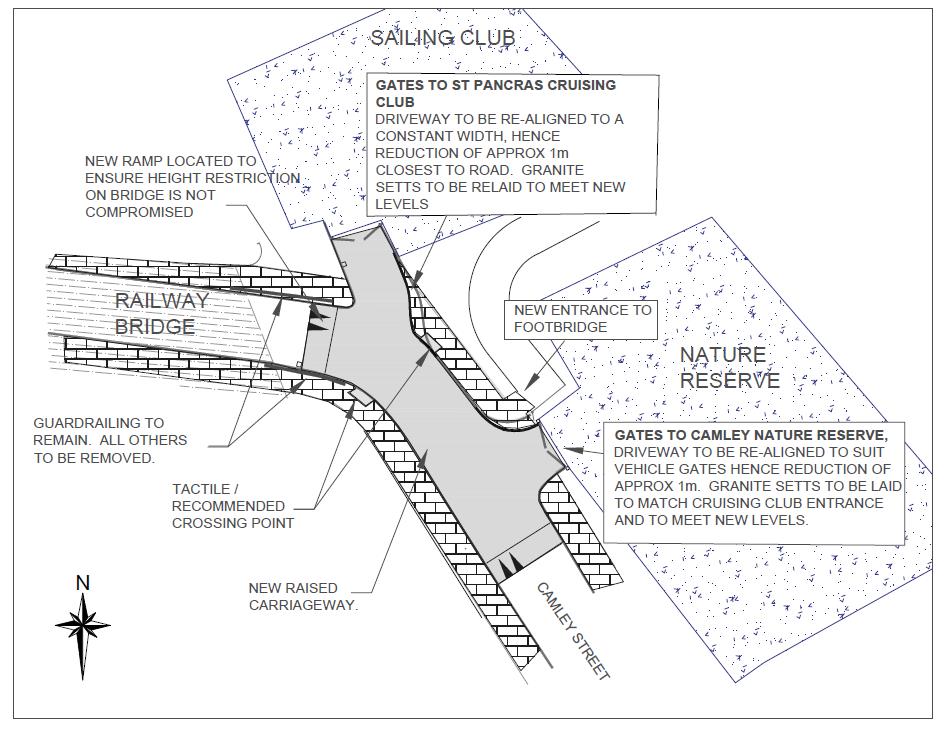 PROPOSAL - Drawing to show proposed speed table at entrance to St Pancras Cruising Club and Camley Nature Reserve.
An Equality and Diversity Monitoring Form has been included. You do not have to complete this form; however, any information you provide will help us in making an informed decision on our proposals. The information provided may be used in our reports; however, your personal details will remain confidential. You can download a copy of the form by clicking HERE
What happens next
While it will not be possible to reply to your individually, all comments will be taken into account. At the end of this consultation period, a report will be written analysing the comments received and officers' recommendations. This report will be presented to the Cabinet Member for Improving Camden's Environment who will make a decision whether or not to proceed with the scheme.
Under the Local Government Access to Information Act 1985, your consultation response will be available for inspection if required; however, your personal details will remain confidential. Please only write to us with matters associated with this consultation. If you do have any further questions or require clarification about the proposed scheme, please do not hesitate contact Tabrez Hussain on the above contact detail.