Overview
The Covid-19 pandemic has changed how communities in Camden live, travel and work.  We want to transform our streets so they have more safe space for everyone to walk and cycle, for children to get to and from school safely, for you to be breathing cleaner air, to reduce carbon emissions from road transport and for businesses to flourish. We want to ensure that our streets support recovery from the pandemic and provide a lasting legacy of greener, safer, healthier travel, helping us to deliver our wider Transport Strategy objectives.
To help we have been making changes across Camden in our Safe and Healthy Streets Programme. This included making trial changes on Prince of Wales Road in July 2020 and adding a new cycle lane to make getting around by bike easier.
Camden Council is now consulting on making the trial (eastbound) cycle lane permanent, and creating a safer and healthier Street, by introducing a number of additional changes. Following the feedback we've received over the past 12 months, the proposed changes are intended to improve conditions for walking and cycling as well as contributing towards improved road safety and air quality.
You can find further information on the proposals in the Information Sheet in the Related Information section below. Here you can also view the scheme drawings and see some example images of some of the proposed measures.
The proposals include:
Retaining the cycle bypass/crossing point at Queens Crescent, whilst adding a mini-zebra crossing across the cycle lane.

Retaining the two 'parallel' pedestrian/cycle crossings at Truro Street and Talacre Gardens.

Retaining the shared-use bus stop borders at the bus stops between Queens Crescent and Malden Road and the bus stop bypass at Talacre Gardens.

Retaining the single-lane traffic in both directions.

Adding 3 new benches, 16 new trees and 13 new cycle parking stands along the route.

Replacing the temporary 'kerb and wand' segregation with a new raised stepped cycle track.

Extending the cycle lane further to the west, towards Maitland Park Villas & Haverstock Hill.

Extending the cycle lane from Talacre Gardens bus stop under the rail bridge at Kentish Town West station (Subject to Network Rail approval).

Adding a new parallel pedestrian and cycle crossing on Prince of Wales Road at the junction with Healey Street/Ryland Road.

Adding 'cycle reservoir' protection and early release signals at the Prince of Wales Road/Grafton Road/Castlehaven Road junction.

Adding blue cycle lane surfacing across side roads and junctions.

Removing the pedestrian islands and adding pedestrian countdown timers at the Prince of Wales Road/Grafton Road/Castlehaven Road junction.

Removing a residents' parking space on both sides of the Prince of Wales Road junction with Hadley Street (total of 2 removed) to improve visibility. These two spaces would be relocated to the south, in close proximity to Prince of Wales Road within CPZ CA-F.

Removing three residents' parking spaces from Prince of Wales Road, at the junction with Healey Street, to accommodate the proposed new parallel pedestrian and cycle crossing. These three spaces would be relocated to the south, in close proximity to Prince of Wales Road within CPZ CA-F.

6 paid for parking bays in CA-F (see Information Sheet) will be repurposed to 'Shared-Use Residents and Paid for Bays' to ensure no further space for residents to park is lost from the CPZ.
Below you can view visualisations of the proposed changes to the scheme currently under consultation. These visualisations will automatically change while you watch.
They will show you what the area looked like before the scheme, what it looks like now and what the consultation proposals would look like.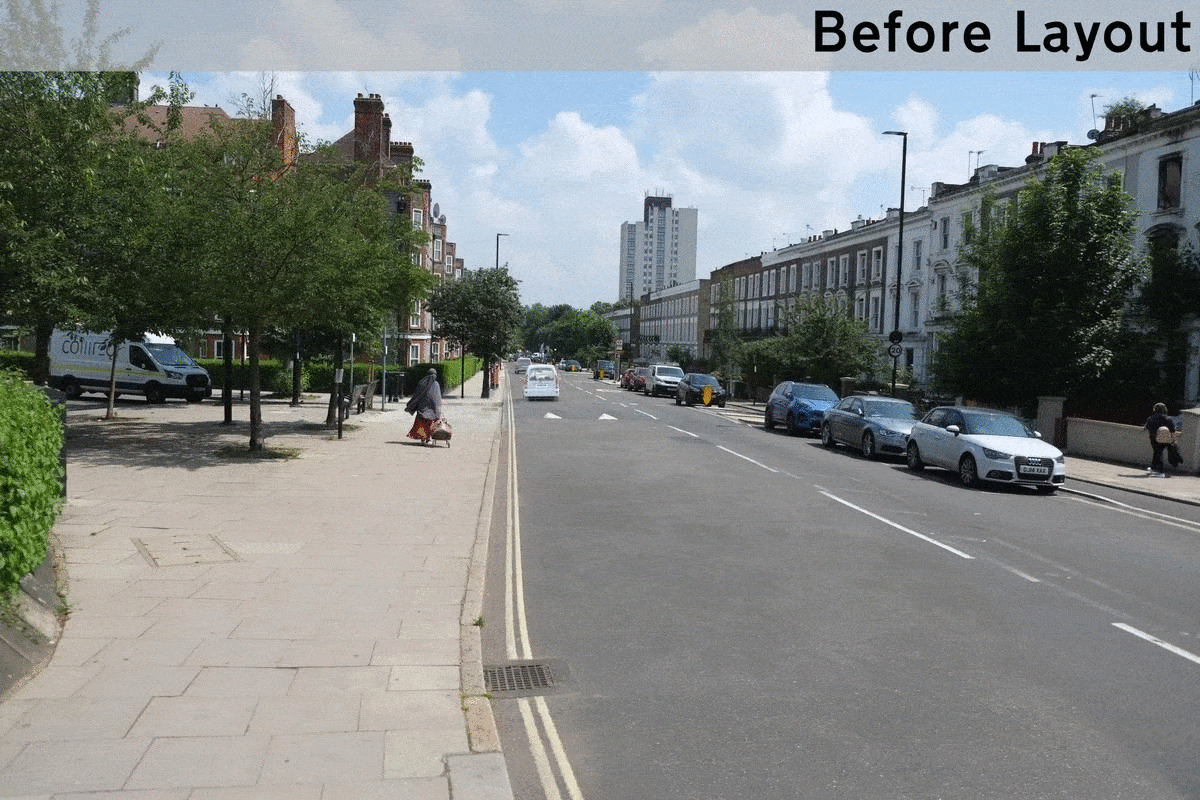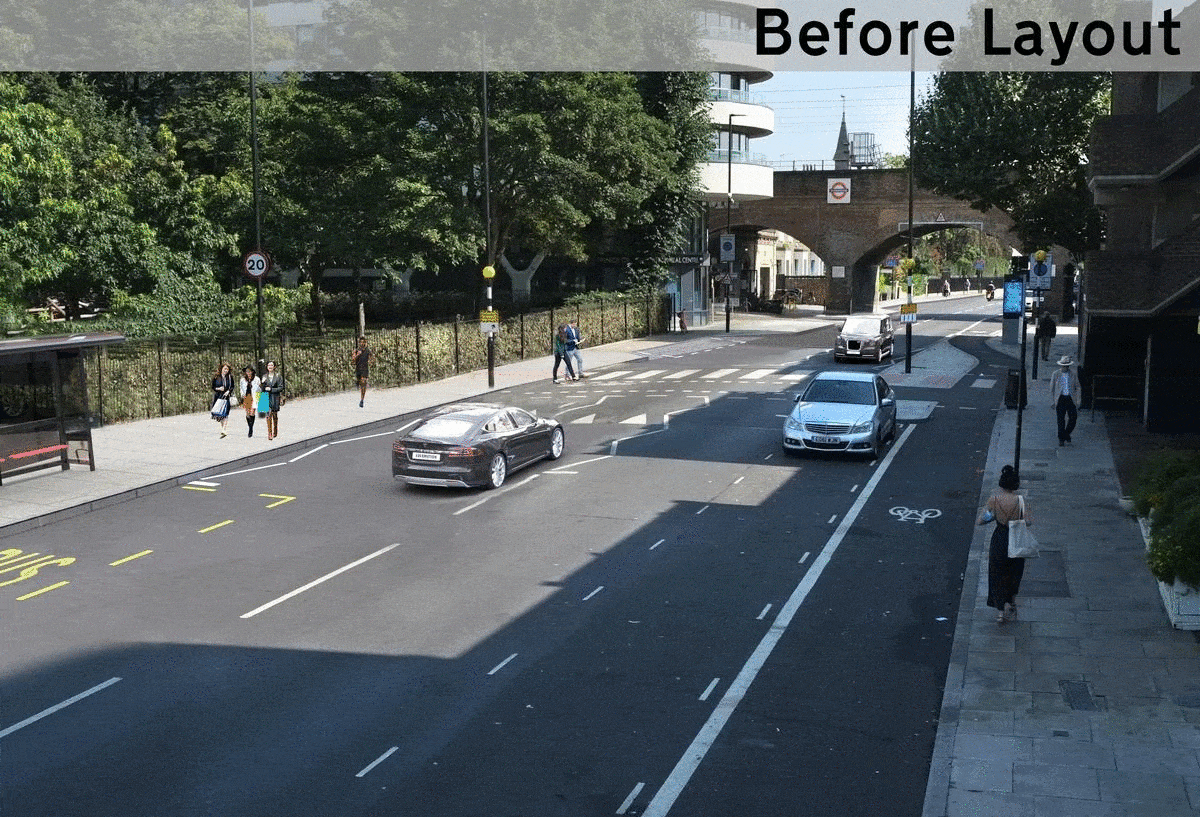 You can also find out more about the scheme at one of our drop in sessions. To keep you and our staff safe, these sessions will be socially distanced with hand sanitiser available. Masks will be required unless exempt due to health reasons and if the sessions are busy you may be asked to wait outside until space is available.
Session 1: 23 September 2021 (Thursday) from 16:00 to 19:00
Session 2: 30 September 2021 (Thursday) from 16:00 to 19:00
Location: Castlehaven Community Centre, 23 Castlehaven Rd, London NW1 8RU
Why your views matter
As 69% of households in the area do not own a car and public transport patronage levels remain lower than before then the pandemic, we know that safe and easy walking, cycling and scooting routes are more important than ever. Supporting and encouraging those who are able to walk and cycle, by creating safer streets will ensure that there is more space available on public transport and on our roads for those who need it the most.
After the consultation, a decision report will be produced and published online via our website. Local residents and stakeholders will be notified of the outcome. The report will consider a broad range of information including consultation responses, feedback received during the trial period, relevant policies and other data/information including monitoring information collected during the trial period.
All of this information will be considered in making a recommendation in the report about whether, at the end of the trial period, the experimental scheme should be made permanent, modified or allowed to lapse.
What happens next
As the consultation is now closed. Your views, and those of everyone who contributes to this consultation, will be analysed and considered, alongside relevant data available on the scheme and in light of how the scheme aligns with our current policy objectives, in order to put forward recommendations on whether to proceed with the proposals. 
If you have any other ideas for improvements to make travel safer and healthier in this area, please go to Safe Travel Camden Map  to make some suggestions.