Overview
The crossing distance for pedestrians outside the School is currently 9.2 metres. This distance plus the relatively high vehicle speeds increases the risk for the 1300 children and young people that attend Hampstead School. Outside the School there is a mix of informal pedestrian crossing points in the form of central islands and a formal zebra crossing.
The aim of these changes is to reduce the vehicle speeds entering the borough and particularly in the vicinity of the School and to improve road safety for pedestrians with a focus on the children and young people traveling to and from the Hampstead School site.
Proposed changes
We are proposing to build out the footway on the north side of Westbere Road outside of the School to reduce the carriageway width, this will improve pedestrian safety by reducing the crossing distance and should also have a traffic calming effect resulting in reduced vehicle speeds. There is also an option, subject to funding and detailed design, to include some 'rain gardens' similar to one shown in the photo (Image 1) below. The rain garden, if feasible, would act as an informal barrier that encourages pedestrians to use the crossing points and provide sustainable footway drainage.
We are also proposing to build raised tables on the informal pedestrian crossing point at the north end of the School and the zebra crossing further south to reduce the vehicle speeds. The raised tables raise the carriageway to footway level and have a ramp either side for vehicles, this both makes it easier for pedestrians to cross and more accessible for anyone with mobility issues. The raised table is intended to have a traffic calming effect and will reduce vehicle speeds.
Please see design drawing (Plan A) below.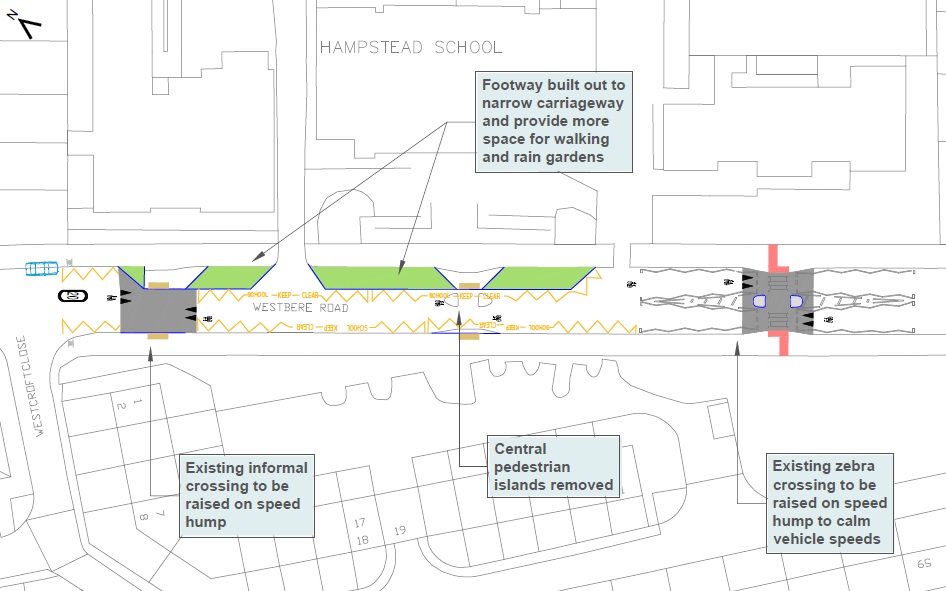 Image 1