Overview
We are seeking your views on the Council's proposal to make changes at Castlehaven Road and Hawley Road in Camden.
In January 2013, planning consent was granted for the redevelopment of the Camden Lock area (Camden Lock Village–Hawley Wharf development). This included the proposal to relocate and enlarge the existing Hawley Primary School and provide new residential housing. To enable construction of this development which commenced in 2015, nine residents parking bays were suspended on the southern side of Hawley Road. During construction, the southern footway on Castlehaven Road (under the rail bridge) was closed to pedestrians and a temporary zebra crossing was implemented to enable pedestrians to cross the road at this point.
The new Hawley Primary School opened to pupils in September 2016; in order to help school children and parents cross the road safely, a new zebra crossing was provided outside the school.  Since the school opened, the pedestrian footfall on this street has increased substantially as children and their parents walk to and from the school.
The construction of the residential part of the development is now near completion and this means that the parking spaces on the southern side of Hawley Road will no longer need to be suspended. In order to provide for servicing to the development, we need to build two crossovers which will require 5 of the 9 parking bays to be removed.   
Since the school opened in September 2016, the Council has received a number of complaints from parents and Councillors regarding dangerous driving – some drivers not stopping at the zebra crossing for school children and other pedestrians. A wider footway will narrow down the road on the approach to the zebra crossing to encourage slower driving and remove any barriers, such as parked cars, that would block drivers' sightlines of pedestrians on the zebra crossing.
We are therefore proposing the following changes:
Provide two crossovers for vehicles to access the Camden Lock Village-Hawley Wharf development (loss of 5 parking spaces currently suspended)

Remove remaining 4 parking bays suspended and widen footway by up to 3m on the southern side of Hawley Road to join up from the zebra crossing to the bridge.

Double yellow lines will be marked adjacent to the widened footway to ensure no waiting can take place. This is to ensure that the traffic lanes are not blocked by vehicles waiting.

No loading at any time (double kerb blips) will be added to the double yellow lines above. A small section will be left with single kerb blips, where loading will be banned Monday to Friday 7am – 10am and 4pm – 7pm.

Make the temporary pedestrian zebra crossing on Castlehaven Road (under rail bridge) permanent. This will result in making permanent the temporary changes to the motorcycle parking which merged two separate bays into one. 

Provide new cycle stands on the widened footway outside Hawley Primary School.
If approved the proposals will be paid for by the developer of the Camden Lock Village–Hawley Wharf Development.
(Please scroll to the bottom of this page to download a PDF version of the above plan, under "related documents") 
This is your opportunity to comment
We need your views as this consultation exercise is intended to find out if there is broad public support for the proposals set out above.
Please ensure that you respond to this consultation no later than Friday the 21st of September 2018. 
Please Note: if you are responding on behalf of an organisation, only ONE reply will be accepted. You must give your name and full postal address when responding to the consultation if you want us to consider your views.
An Equality & Diversity form has been included that is voluntary for you to complete. Any information you provide on this form will help us in making an informed decision on the scheme.
Who is being consulted?
All properties located on Hawley Road and Castlehaven Road between Chalk Farm Road and Kentish Town Road (within the area outlined in blue on the map below) directly affected by the proposals, Local Groups, Statutory Groups, Emergency Services and Ward Councillors.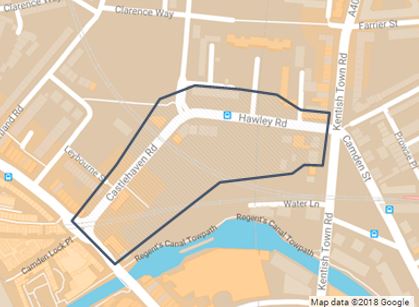 What happens next
While it will not be possible to reply to you individually, all comments will be taken into account.
At the end of this consultation period, officers will consider all responses received and write a report with recommendations. This report will be presented to the Director of Regeneration and Planning (Supporting Communities Directorate) who will make a decision whether or not to proceed with implementing the proposals. Once approved by the Director, the decision report will be published on this website. 
Under the Local Government Access to Information Act 1985, your consultation response will be available for inspection if required; however, your personal details will remain confidential. Please only write to us with matters associated with this consultation.