Overview
We are seeking your views on the Council's proposal to improve pedestrian crossing facilities at the junction of St Mark's Square and Prince Albert Terrace, and to introduce segregated contra-flow cycling on St Mark's Square to improve cycle permeability in the area. The junction is located close to entry points for London Zoo, Regents Park and Regents Canal, so we consider that these improvements will greatly improve access to these attractions as well as improve north-south cycling in this area.
The proposed improvements
The proposed improvements involve the introduction of a contra-flow (against the flow of car traffic) cycle lane on St Mark's Square that will allow cyclists to travel northbound safely along St Mark's Square. This will require the removal of one of the three existing traffic lanes along this road and all the existing parking bays will be moved and joined together to create one 'floating' parking bay (see an example below) that will be marked between the contra-flow cycle lane and southbound traffic movements. No parking spaces will be lost as a result of the changes proposed.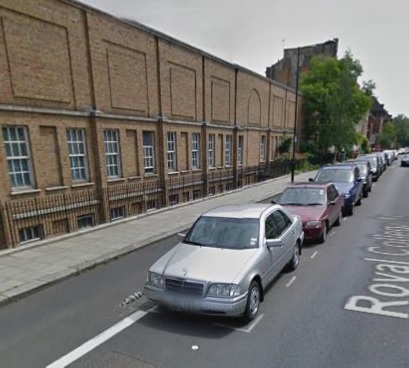 At the northern end of St Mark's Square the footway will be widened to improve access to the existing zebra crossing on Regent's Park Road. This will also reduce the crossing distance across St Mark's Square, and the central island will be relocated to better suit the new road layout.
Modifications at the junction of St Mark's Square and Prince Albert Road will include the addition of a new green man pedestrian crossing, resulting in green man crossings on all arms of the junction. This will be assisted by 'Countdown' signals, which indicate to users how many seconds are left to cross the road before traffic will start moving (see example below). Providing the new crossing facility on the west junction arm will require widening the footway here and relocating the access to a private driveway.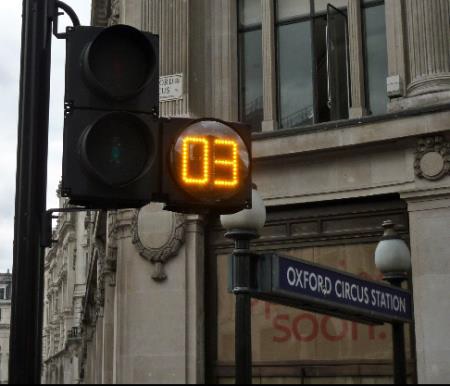 A left turn pocket will also be added to Prince Albert Road, in the middle of the junction, to provide a safe place for cyclists to wait for a space in traffic before turning right into the new contra-flow cycle lane. Cyclists will be the only road user permitted to turn right.
Please see the diagram below  for a detailed plan of the proposed changes.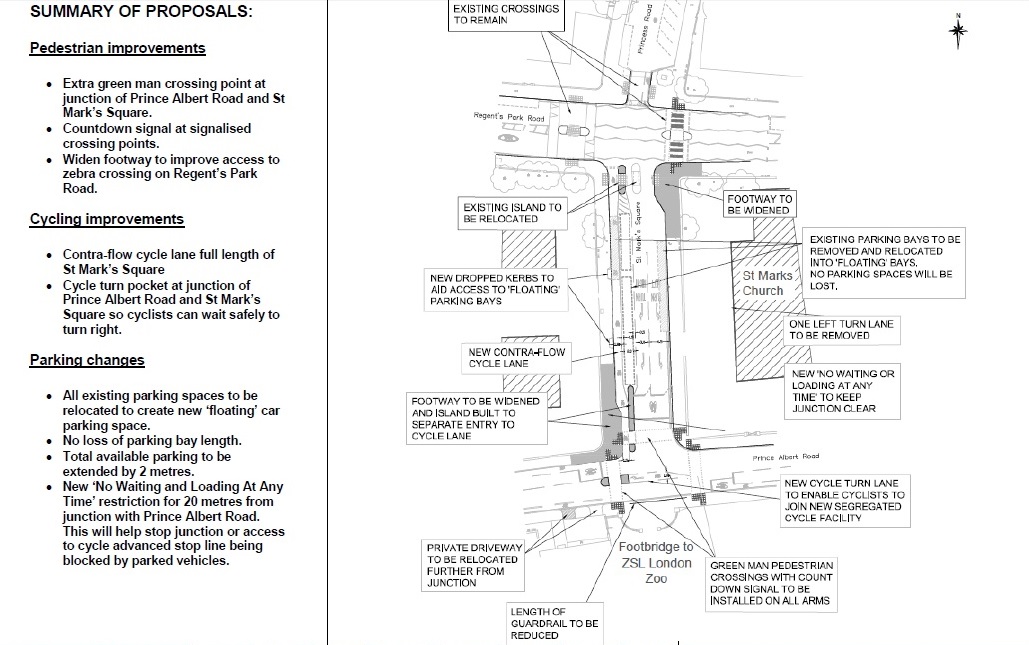 How to respond to the consultation
The Council will be pleased to hear your views on this proposal 29.08.16.  Please note only ONE reply per household, business or organisation will be accepted. You must give your full postal address when responding if you want us to consider your views.
Respond by 1 of 3 ways:
1. By email - Download the below printable PDF questionnaire and email the completed questionnaire  to Joanna.alker@camden.gov.uk
2.  By post - Download the below printable PDF questionnaire and send your completed paper response (No stamp required) to London Borough of Camden, Supporting Communities Directorate, Transport Planning and Parking Strategy Service, FREEPOST RLZH-UEYC-ACZZ, London, WC1H 8EQ.
OR
3. By online survey - Complete the online survey by clicking on the link below.
Under the Local Government (Access to Information) Act 1985, we may not treat your letter confidentially, as it will be available for public inspection. Please only write to us about the consultation issue. If you want to comment on any other matter, please use a separate letter.
Who is being consulted?
- All properties & businesses within the boundary line as shown in the map in the below attached Consultation Leaflet.
- Emergency services and statutory consultees.
- Local Ward Councillors