Overview
The Covid-19 pandemic changed how communities live, travel and work. We want to transform our streets so they have more, safe space for everyone to walk and cycle, for children to get to and from school safely, for you to be breathing cleaner air, to reduce carbon emissions from road transport, and for businesses to flourish. We want to ensure that our streets support recovery from the pandemic and provide a lasting legacy of greener, safer, healthier travel.
We've been trialling changes on Chalk Farm Road to help make streets safer and healthier by improving junction layouts, upgrading pedestrian crossing points and adding new cycle lanes to make getting around safer and easier.
London Borough of Camden is now consulting on making the following changes permanent, by introducing the new measures in this area to improve conditions for walking as well as cycling.
We are proposing to retain the following:
3 signalised pedestrian crossings with countdown facilities. This is to provide safer crossing facilities for pedestrians.

Junction layout of Ferdinand Street/ Juniper Crescent. This is to provide safe access for walking and cycling across junctions, minimise delays to traffic and buses and facilitate the Morrisons development on Juniper Crescent which is currently under construction.

Way-finding signage at the junction of Chalk Farm Road and Hartland Road. This is for the continuation of the cycle route to Kentish Town/ Camden Town via Hartland Road.

4 bus stop bypasses. This is to provide safe continuous cycling and help protect bus journey times.

Under the trial scheme, we relocated some parking provision to nearby side roads. We are proposing to not make any further changes to parking. Keeping the relocated parking is to facilitate the cycle lanes in both directions along the main corridor.
We are proposing to replace the following:
Zebra crossing outside Camden Market to be replaced with a new signalised pedestrian crossing. This is to provide for a safer and improved crossing for people accessing the market and adjacent bus stops.
Current 'kerb and wand' segregation for the cycle lanes to be replaced with raised stepped cycle tracks. This is because 'kerb and wands' get dirty quickly and are easily broken, and stepped cycle tracks provide a better ride quality and a more useable width. This also improves emergency vehicle response times (vehicles can pull over onto the cycle tracks to allow emergency vehicles through). (For a visual example, see the guide in related information)
Bus Stop CD outside Haverstock School to be relocated to east of Crogsland Road and converted to a new bus stop bypass. Although the relocated bus stop is now 450 metres from the previous stop, it will be better located for passengers visiting the local shops, venues and roads to the north of Chalk Farm Road. This is also to reduce the overcrowding of pedestrians at the entrance of the school at closing times and provide a safer cycle facility. (For a visual example, see the guide in related information)
Taxi parking facility outside Camden Market to be relocated to east of Crogsland Road and to be shared with a new timed loading bay. This is to accommodate the continuity of the cycle track.
We are proposing to add the following:
Installing approximately 8 new benches to provide opportunities to rest, particularly for the elderly and people with disability.
Installing approximately 15 new trees along Chalk Farm Road to improve air quality, biodiversity, shade and improve the public realm of the street.

Improved junction layout at Haverstock Hill/ Chalk Farm Road/ Adelaide Road/ Regents Park Road/ Crogsland Road, including a new signalised pedestrian crossing and dedicated signal stages for cycles. This will help reduce through-traffic in the Eton Road/ Steele's Road area as there will be safer and easier vehicle turning movements to/ from Adelaide Road. The improved junction also provides a safer and easier environment for walking and cycling.

Installing new 'blended pedestrian crossings' (i.e. continuous footway) across side roads of Belmont Street, Harmood Street and Hartland Road, to provide pedestrian priority and reduce vehicle speeds at side roads. (For a visual example, see the guide in related information)
Installing a new signalised pedestrian crossing on Haverstock Hill, outside The Enterprise Bar and Hotel, to provide safer access and accessibility for pedestrians.
Installing 5 new cycle parking facilities at 2 locations to encourage more people to cycle.
Installing blue surfacing across junctions and side roads to provide an increased awareness of cyclists. (For a visual example, see the guide in related information)
New bus stop bypass between the junctions of Harmood Street and Hartland Road. This will require the current zebra crossing to be relocated nearby and upgraded to a new signalised pedestrian crossing for added pedestrian priority. The new bus stop will better serve routes from Ferdinand Street and provide better access for pedestrians visiting Camden Market and nearby attractions.
Installing new low level planting areas on a majority of sections of new and current bus stop bypasses. Sections of the current bus stop bypass islands to be replaced with low level planting areas. This is to improve the look and feel of Chalk Farm Road, and to improve biodiversity and sustainable drainage.
Installing new double yellow lines with double blip markings (no parking/waiting at any time) along the scheme route to prevent vehicles from parking and loading on the cycle lane.
Below you can view visualisations of the proposed changes to the scheme currently under consultation which will automatically change while you watch. They will show you what the area looked like before the scheme, what it looks like now and what the permanent proposals would look like.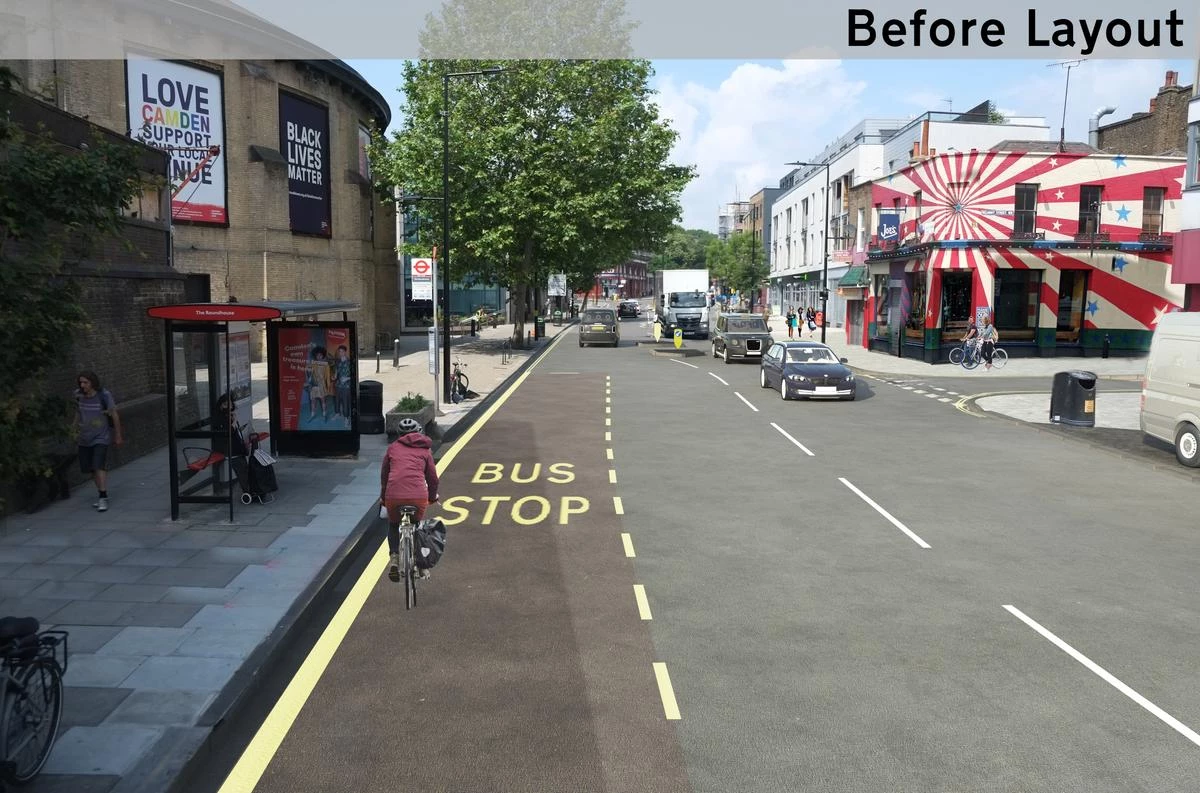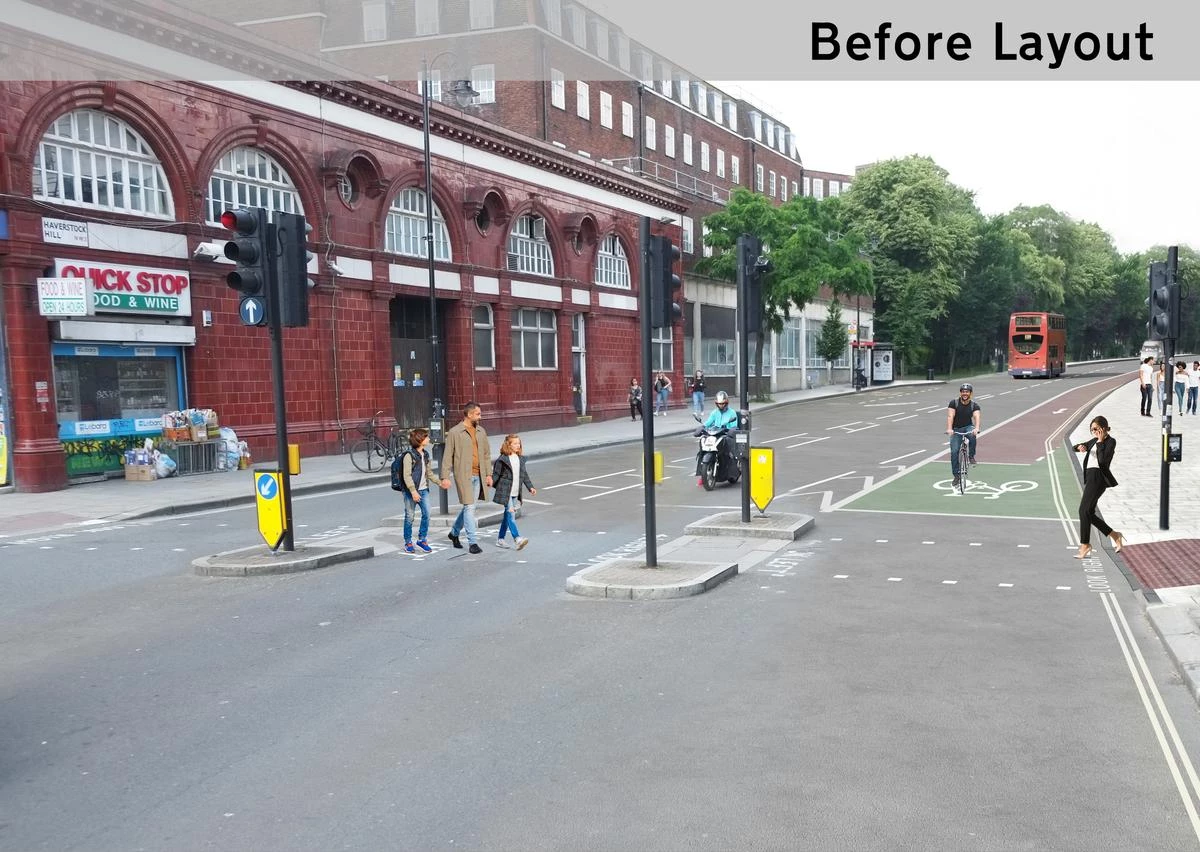 You can also find out more about the scheme at one of our drop in sessions. To keep you and our staff safe these sessions, we will be socially distanced with hand sanitiser available. Masks will be required unless exempt due to health reasons and if the sessions are busy you may be asked to wait outside until space is available.
Session 1: 23 September 2021 (Thursday) from 16:00 to 19:00
Session 2: 30 September 2021 (Thursday) from 16:00 to 19:00
Location: Castlehaven Community Centre, 23 Castlehaven Rd, London NW1 8RU
Why your views matter
As 69% of households in the area do not own a car and public transport patronage levels remain lower than before the pandemic, we know that safe and easy walking, cycling and scooting routes are more important than ever. Supporting and encouraging those who are able to walk and cycle, by creating safer streets will ensure that there is more space available on public transport and on our roads for those who need it the most.
Your views are important in providing feedback both on the proposed scheme as a whole and elements of it, and we would therefore welcome your responses on the pages that follow.
What happens next?
After the consultation, a decision report will be produced and published online via our website. Local residents and stakeholders will be notified of the outcome. The report will consider a broad range of information including consultation responses, feedback received during the trial period, relevant policies and other data/information including monitoring information collected during the trial period.
All of this information will be considered in making a recommendation in the report about whether, at the end of the trial period, the experimental scheme should be made permanent, modified or allowed to lapse.