Overview
আপনি যদি অন্য ভাষায় এই পেজটি দেখতে চান, তাহলে অনুগ্রহ করে নিচের লিঙ্কটি ব্যবহার করে Google অনুবাদের এক্সটেনশনটি ইনস্টল করুন। ইনস্টল করা হয়ে গেলে, অনুগ্রহ করে এই পেজটি আবার ভিজিট করুন এবং অনুবাদ আইকনের বোতামটি ব্যবহার করে আপনার পছন্দের ভাষা নির্বাচন করুন যেটি Google আপনার ব্রাউজারের টুলবারে যোগ করবে।
Google অনুবাদ টুল ডাউনলোড করুন
এছাড়াও, আপনি নিজের ভাষায় এই উপকরণের কাগজের সংস্করণের জন্য আমাদেরকে ইমেল বা কল করতে পারেন।
Haddii aad jeclaan lahayd inaad boggan ku aragto luqad kale fadlan soo degso Aaladda Google Translate adigoo isticmaalaya linkigan hoose. Marka aalada ay soo gasho kumbiyuutarkaaga, fadlan mar labaad soo booqo boggan oo dooro luqadda aad rabto adigoo isticmaalaya badhanka summada turjumaada, badhankaas oo Google uu ku su dari doono qeybta aaladaha ee baraawsarkaaga.
Soo DeGSO AaladdaTurjumaada ee Google (Google Translation)
Waxaad sidoo kale noo soo diri kartaa iimayl ama waad na soo wici kartaa si aad nooga codsato nuqulka macluumaadkaan oo warqad ah oo ku qoran luqada aad ku hadasho.
The Project
Queen's Crescent is a vibrant market, shopping street and neighbourhood centre providing services and social connections for local people, at the heart of one of Camden's most diverse and densely populated neighbourhoods. With a long and proud history, Queen's Crescent represents all that's great about Haverstock and Gospel Oak, Camden and London.
We have secured funding from the Mayor of London's Good Growth Fund, and the Mayor of London's Good Growth Accelerator to a total of £1,913,000 for Queen's Crescent. This is in addition to funding secured from DfT for the trial scheme.
This consultation now proposes changes that aim to transform Queen's Crescent into a healthy, vibrant community street fit for the future at the heart of the local community. Separate to this consultation we will also be delivering other projects on Queen's Crescent utilising the Good Growth funding on projects such as a Market Enterprise project, a shop front improvement project and a signage and wayfinding strategy.
This is a once-in-a-generation opportunity to turn Queen's Crescent into a more pleasant area to live, work, shop and spend time in for locals and for visitors. We want to reduce the overwhelming feeling of traffic dominance in the area, improve pedestrian access by enhancing the pavements, improve air quality and road safety and make sure that local businesses and the market can thrive.
Trial scheme (via Experimental Traffic Order)
Since 2016, we have been listening closely to the views of local people in the area and working to understand your priorities for the area. We understand from you that there is a strong desire to improve pedestrian facilitates and reduce the way traffic dominates Queen's Crescent. We know that car ownership in the area is low and that you said walking is the main way you move about.
With this public feedback and the way that the Covid-19 pandemic changed how people live, work and travel in mind, in January 2021 we consulted on and then in May 2021 launched a trial pedestrianisation scheme. You can find details on the Experimental Traffic Order (ETO) here.This scheme aimed to make it safer and easier to walk and cycle on Queen's Crescent and surrounding streets and to breathe new life into businesses and the market.
We have been monitoring the impact of the trial changes and have produced a report which you can review and is also included in the related information section below. Some of the key findings contained in the report, when comparing "pre-scheme" with "during-trial" data, include:
Overall, motor vehicle levels on both local roads and main roads within the scheme area have reduced (33% and 12% respectively).

A 37% increase in cycling was observed

 across local streets. The largest absolute increases were observed on Queen's Crescent.

Pedestrian flows were higher

 on Queen's Crescent in September 2021 relative to April 2021 on Non-Market days (+5%) and Market days (+4%).

Air quality improvements were recorded

 at all 25 air quality monitoring stations in the scheme area. Concentrations of harmful NO2 went down by an average of 34%.
Our monitoring, listening and research have also shown that:
Two-thirds of visitors to Queen's Crescent either visit daily or several times a week. The vast majority of these people said that they walked.

More than 90% of trips for shopping in Camden are by walking, cycling and public transport.

Over 30,000 people live within a 15-minute walk of Queen's Crescent.

Businesses submitted the postcode data of their customers which showed that 80% of their customers lived within 1500 metres of the Crescent.
Thank you for providing us with valuable feedback during the trial on the commonplace website, to the Queen's Crescent Champions, at events run by StreetSpace, talking to us at the market stall events or by getting in touch with us directy. We now want to gather your thoughts on the proposals in this consultation, which have been shaped based on the views of the community and the data we have gathered.
What is being proposed?
We are now proposing a scheme on Queen's Crescent, and on the surrounding local streets, which has some key differences to the trial scheme. However the proposed scheme aims to retain the benefits of the trial scheme such as improved air quality, less motor vehicle traffic and increased levels of cycling while also taking on board the feedback from the community.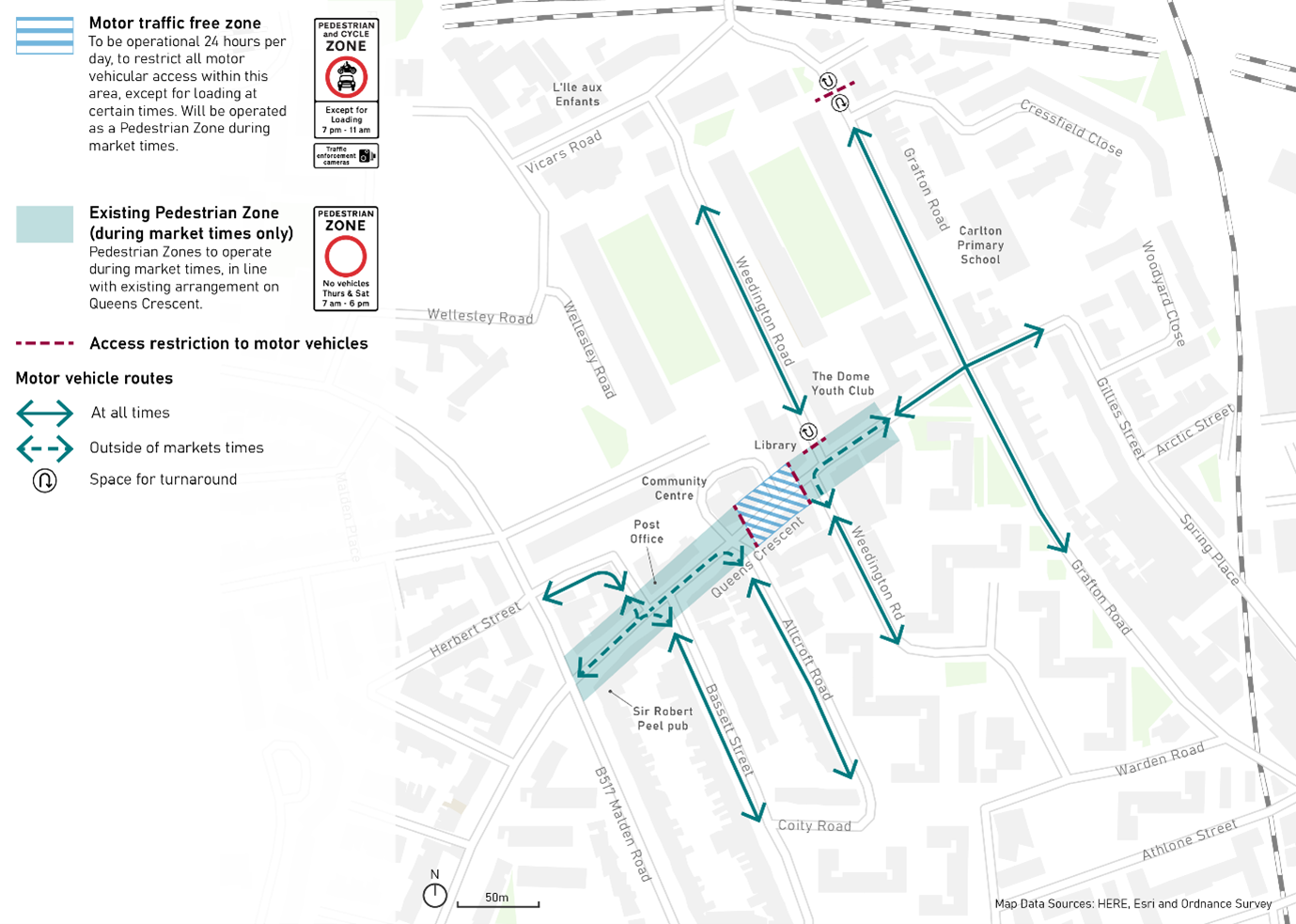 Traffic circulation map, showing adjusted pedestrian and cycle zone.
The proposals include:
More parking and loading opportunities, in response to issues raised by businesses.

A shortened Pedestrian and Cycle Zone on Queen's Crescent, between Allcroft Road and Weedington Road, to improve access for motor vehicles

Improved and widened pavements throughout, a top community priority.

New custom-made lighting to support a better sense of safety at night-time.

A high-quality entrance feature at the Malden Road entrance.

Relocation of the motor vehicle restriction on Grafton Road, north of Cressfield Close in response to resident desire for better access to Kentish Town and due to concerns of moped use on pedestrian paths of Cressfield Close and Woodyward Close.

Retaining the Weedington Road motor vehicle restriction in its current location with a new r

aised and continuous pedestrian crossing

Widening the pavement and adding new informal pedestrian crossings outside the Stewart International school on Vicars Road, which would make it safer to cross the road.

Improved street furniture such as informal seating areas for residents, businesses and market traders.

New traffic calming measures.

New bike hangars for secure storage of bikes.

New trees and planting on the Crescent and surrounding streets, with features like rain gardens and Sustainable Urban Drainage Systems (SUDS)
A key feature of the scheme is the proposed Pedestrian and Cycle Zone on Queen's Crescent, which would be shorter than the current trial layout. You can compare the trial and proposed layouts side by side or view trial layout in detail here. During the trial, the Pedestrian and Cycle Zone extended from Bassett Street to Weedington Road. The proposed Pedestrian and Cycle Zone in this consultation would extend from Allcroft Road to Weedington Road.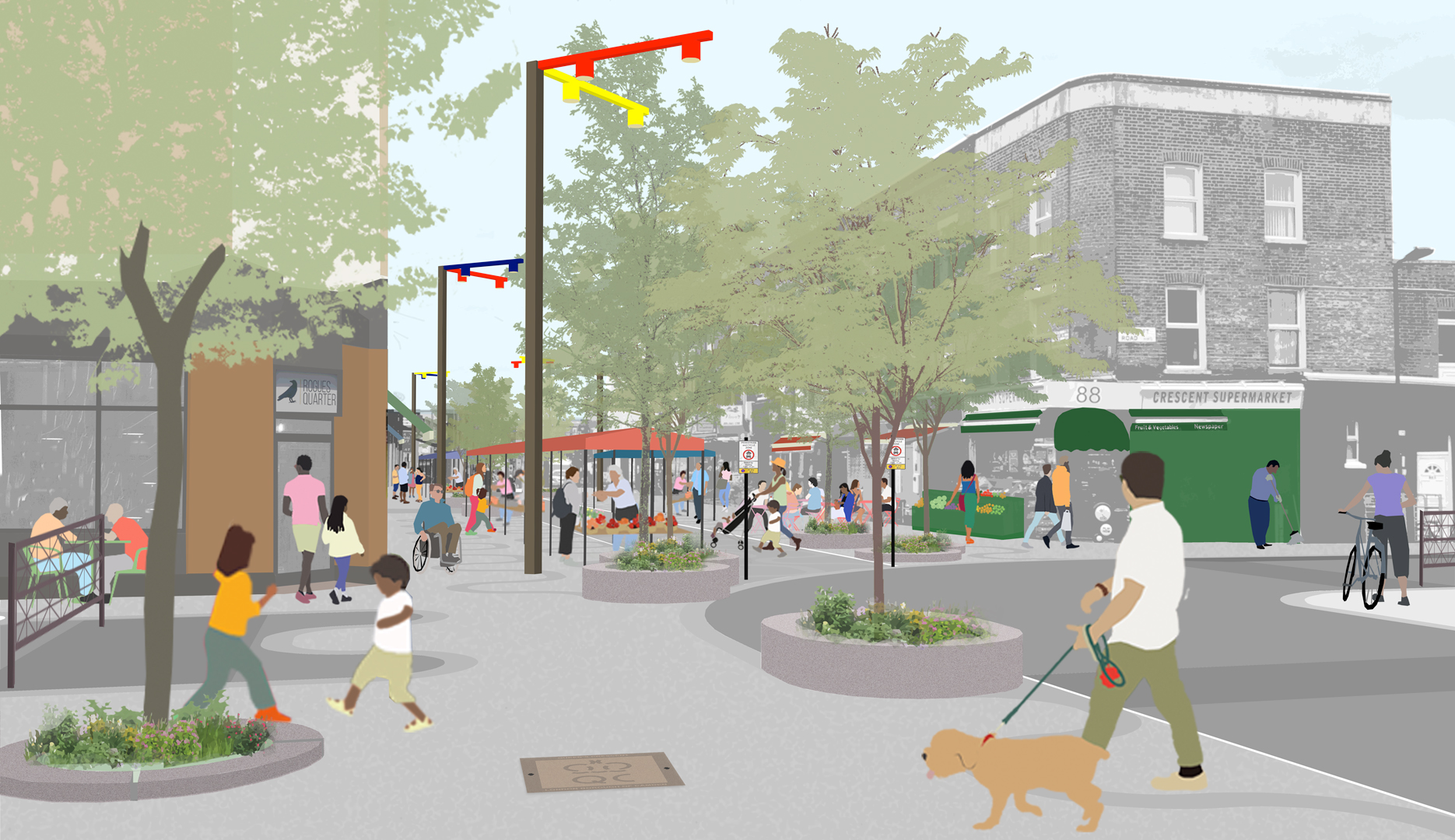 Proposed view of Queen's Crescent looking east from Ashdown Crescent showing market activity in the proposed ped and cycle zone. This image is an artists impression of the proposed scheme and elements are subject to change.
You can find further information and detail on the proposals in the designs, such as the annoted overview plan, in the Related Information section and in the Online Survey, both accessed below.
The Online Survey is split across several pages, to make it easier for you to view the proposals for the different sections of Queen's Crescent and the surrounding streets.
Existing Market Days
We are not proposing any changes to the existing market days, and we are not removing any market pitches. Some market pitches have been moved slightly, to bring in key features like an informal pedestrian crossing. You can see a plan with market pitches here (Please note this plan does not show market pitches between Weedington Road and Grafton Road where no changes are proposed)
Street lighting and electricity supply columns
We will be upgrading all street lighting along Queen's Crescent from Malden Road to Grafton Road. We will also be upgrading all electricity supply columns that support the market stalls on Queen's Crescent from Malden Road to Grafton Road.
Increased opportunities for parking and loading
As part of this proposed scheme there are 72 opportunities for parking and loading for visitors, either on or near Queen's Crescent (outside the proposed Pedestrian and Cycle Zone), with an additional 8 spaces available for loading between 7pm - 11am on Monday-Wednesday, Friday and Sunday inside the Pedestrian and Cycle Zone. In addition, there would be 10 blue badge bays on or near Queen's Crescent under these proposals.