Overview
Latest update: 11 January 2022
Camden Development Team's submitted an application for planning permission for the Tybalds regeneration programme on 2 August 2021.
The planning application reference number is 2021/ 3580/P.
All documents and comments submitted by members of the public relating to the application can be viewed through the Camden Planning web portal - https://planningrecords.camden.gov.uk. The Search tool will assist you to locate the application. 
The Camden Planning Committee are now scheduled to consider the application and make a decision at their meeting on 16 February 2022.
Residents and the wider public were invited to comment formally on the regeneration proposals as part of the Planning process. The Planning consultation ran from August 2021 until 14 December 2022. This consultation period has now ended. 
_________________
14 September 2021: Tybalds Regeneration: An Exhibition 
Approximately 50 people attended the exhibition on 14 September in Tybalds' Blemundsbury Community Hall.
The twelve exhibition boards from this pop-up exhibition are now available as downloads in the 'Related' section below. They showcase the designs for the Tybalds Estate regeneration scheme which have been submitted for planning permission.
24 March 2021: Cabinet approval to proceed: On 24 March the Camden Cabinet gave approval for theTybalds regeneration project to proceed to apply for planning permission. 
April/ May 2021: Tybalds Square landscaping survey: Residents of Babington, Chancellors and Blemundsbury were invited to complete a survey to tell us how Tybalds Square should be re-landscaped and improved. Thank you to the 42 people who contributed views and ideas.
____________________
Background to the latest proposals 
Since January 2019, Camden Council's Community Investment Programme development team have been working with estate residents, the Tybalds Residents Association, the wider local community and the Green Space and Environmental Services teams to develop proposals to deliver new homes and landscaping improvements on the Tybalds estate additional to the  Better Homes programme of repairs and renewals. As a result of feedback from residents we have made significant changes to the original regeneration proposals. 
What is now proposed for Tybalds estate regeneration?
Key aspects of the latest proposals are:
56 new homes, including 50% affordable housing, comprising: 16 homes for Camden social rent and 12 affordable homes delivered by a housing association.
28 new-build homes and one plot of land to be sold on an outright basis to fund the redevelopment scheme
New landscaping across the estate including significant landscaping improvements to Tybalds Square
Improved access to some existing blocks
A purpose-built community centre with two hall spaces
No one will have to move out of their home during the construction period.
A Local lettings plan which will initially ring-fence new rented homes for Tybalds residents using Camden's choice-based lettings priorities.
Currrent and previous versions of the design proposals and our regeneration newsletters can be downloaded from the 'Related documents' section below.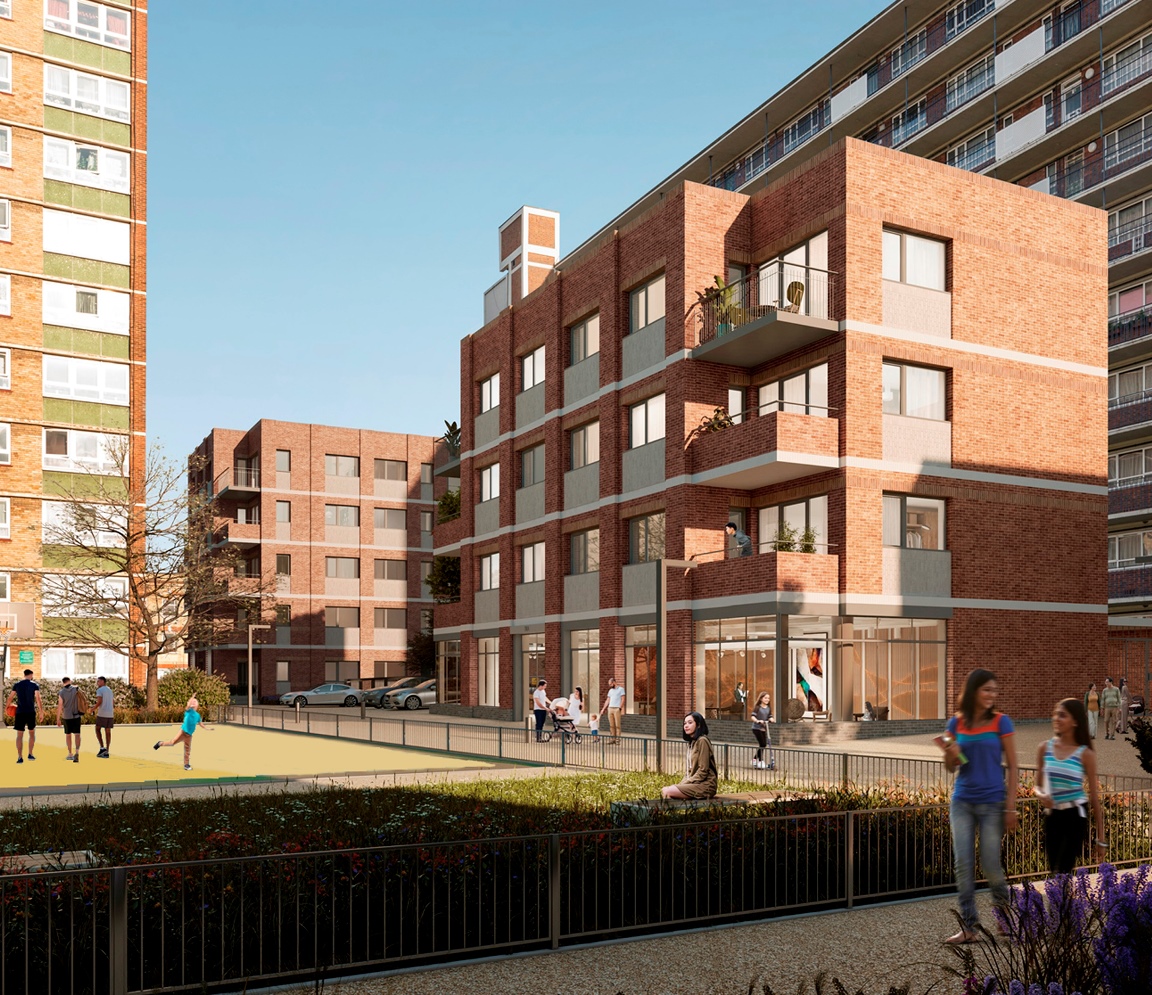 View of Tybalds Square and the new 'Block C' with new community centre on the ground floor (Computer generated image)
Formal consultation
A formal consultation ran from 25 February to 30 June 2020.  All Tybalds residents and stakeholders from the wider Holborn and Bloomsbury community were invited to examine and comment on the latest design and landscaping proposals. Please visit the Tybalds regeneration - Formal consultation page for more information about the formal consultation. 
What happens next?
We will expect a decision from the Camden Planning Commitee in November 2021. If planning permission is granted we will begin the tendering process to appoint a main contractor, aiming to begin construction and landscaping on the estate in late 2022. On this indicative timescale, we anticipate that the regeneration would be completed around Autumn 2024.
Other Camden Council work to improve the Tybalds estate
A 'Better Homes' programme of repairs and renewals on the Tybalds estate is scheduled to begin in August 2021. For more information, please visit:  https://www.camden.gov.uk/better-homes-tybalds
Camden's Green Space Team are managing a refurbishment of the Alf Barrett play space. Work there is scheduled to begin in June 2021.
Boiler replacement works managed by the Mechanical and Electrical team (M&E) are scheduled to begin in June/ July 2021.
How can I contact the Camden regeneration development team?
Please email queries, ideas and comments about the Tybalds regeneration programme to our project inbox: tybaldsdevelopment@camden.gov.uk
or contact: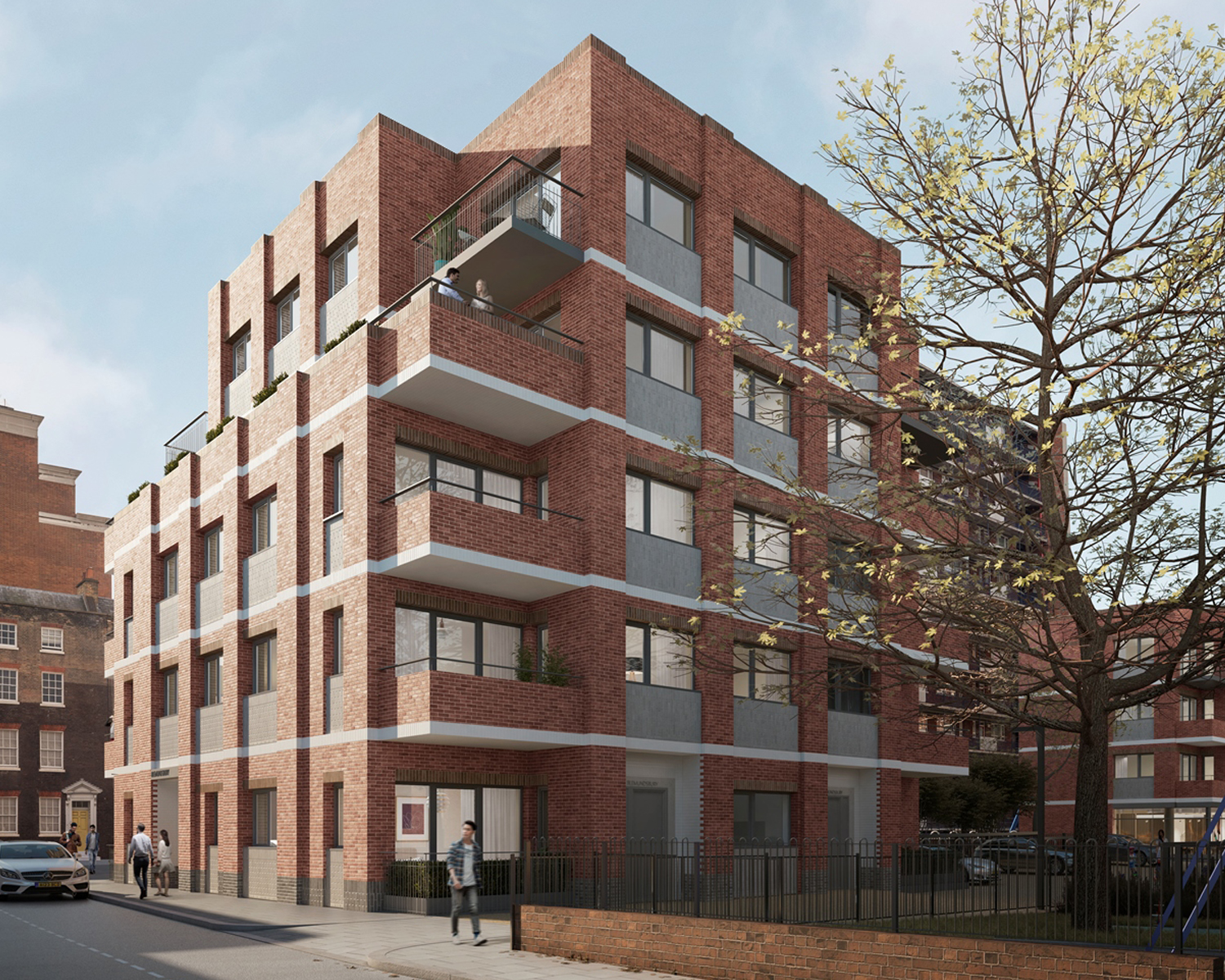 Block B from Orde Hall Street (Computer generated image)