Overview
News from GOSH
Great Ormond Street Children's Hospital have asked us to tell local people about a public drop-in event they are organising on Thursday 10 November 2022, 4pm - 8pm in the lobby of the Paul O'Gorman Building on Great Ormond Street for an update on GOSH's plans to build a Children's Cancer Centre which will replace the existing Frontage Building and the main entrance of the hospital on Great Ormond Street. You can meet the GOSH team, find out more and raise any concerns you have about the project. RSVP to CCC@gosh.nhs.uk. For more information visit GOSH's project website: www.goshccc.info
_______
September 2022: Tybalds Regeneration Phase One - Progress Update
Appointing a main contractor – The CIP development team are tendering for a main contractor for Phase One. We aim to select a contractor by late-November 2022, scheduling for work to start on site in February 2023.
Monitoring air quality - In October 2022 we will be installing air quality monitoring equipment on the estate and will be monitoring dust and other pollutants in the atmosphere throughout construction.
Construction management plan (CMP) – We have begun to draft a Construction Management Plan for the regeneration project. This important document will include details of how building works will be organised and how the impact of construction on local residents and organisations will be minimised, such as eg. the site set-up, hours of work, noise and air quality monitoring and liaison with residents, local organisations and other local contractors. 
Consulting residents and local stakeholders about the Construction Management Plan - We will complete the CMP draft in November 2022 when the main contractor is appointed and aim to consult with estate residents, local people and other stakeholders in late-November/December 2022 to make sure local views and ideas are included in the CMP. Once input from the consultation has been incorporated, we will submit the CMP to the Planning Department for final approval.
More information about Construction Management Plans in Camden: https://www.camden.gov.uk/about-construction-management-plans 
You can download the outline draft CMP for Tybalds regeneration from the 'Related' section at the bottom of this page. 
If you have any comments or suggestions on the first outline CMP or if you would be interested to join a Tybalds Regeneration Construction Working Group, please email tybaldsdevelopment@camden.gov.uk
An indicative timescale for Phase One
(All dates may be subject to change)
| | |
| --- | --- |
| August/September 2022  |  Preparations for construction: moving water pipes; soil and asbestos testing |
| October 2022 | Install air quality monitoring equipment on the estate |
| Late-November 2022 | Selection of main contractor |
| Nov/Dec 2022 | CMP consultation with residents and other local stakeholders |
| 30 November 2022 (?) | CMP consultation Drop-In event at Blemundsbury RA Hall |
| Late-December 2022 | Submit CMP to Planning team for approval |
| February 2023 | Construction starting on site at Blemundsbury, Falcon and Richbell |
| Spring 2024   | Estimated completion of Phase One works |
______________________________
What will happen next?
The regeneration programme will be divided into two phases.
Following the Planning Committee's decision to approve the Tybalds Regeneration Scheme, Camden's Development team have begun the tendering process to appoint a main contractor for Phase One of the regeneration. Construction and landscaping work on the estate is planned to begin in February 2023. On this timescale – which may be subject to change - Phase One will be completed in Spring 2024.
Phase One of the regeneration programme will include:
Construction of ten 'underbuild' social housing flats by converting existing ground floor spaces in Blemundsbury (5), Falcon (3) and Richbell (2). Six of these new flats will be wheelchair-living homes

Landscaping and construction of wheelchair-compliant ramp access on the north side of Blemundsbury

Fit-out for a caretaker's mess room on the ground floor of Springwater

Landscaping of Richbell and Falcon courtyards and Blemundsbury north.
Phase Two will comprise:
Block C – 6 flats for social rent 3x2bed and 3x3bed

Purpose built TRA Hall

Tybalds Square landscape

Ramps to Babington Court and Chancellors Court

Block B – 18 flats for private sale

Block D – 12 flats:  7 for social rent and 5 for intermediate rent
What is included in the Tybalds estate regeneration programme?
Key aspects of the Tybalds regeneration programme are:
56 new homes, including 50% affordable housing, comprising: 16 homes for Camden social rent and 12 affordable homes delivered by a housing association.

28 new-build homes and up to two plots of land to be sold on an outright basis to fund the redevelopment scheme

New landscaping across the estate including significant landscaping improvements to Tybalds Square

Improved access to some existing blocks

A purpose-built community centre facing Tybalds Square with two hall spaces

No one will have to move out of their home during the construction period.

A Local lettings plan which will initially ring-fence new rented homes for Tybalds residents using Camden's choice-based lettings priorities and vacated flats will also be ringfenced for Tybalds tenants including homes vacated by residents qualifying for the wheelchair accessible flats.
Current and previous versions of the design proposals Tybalds regeneration newsletters can be downloaded from the 'Related documents' section below.
______________________________________________________
Local Lettings for the new social rent homes
As part of the Tybalds Local Lettings Plan, all the new social rent homes will be initially ring fenced for Tybalds Council tenants and allocated using the points system of Camden's Choice-based lettings scheme.
To be able to bid for one of these new homes, residents need to register on the Camden Housing Register as soon as possible. To apply to join the register, visit: www.camden.gov.uk/apply-council-housing
______________________________________________________
Some milestones in development of the current Tybalds regeneration programme
2017 Previous plans for Tybalds regeneration were cancelled due to lack of financial viability.
January 2019+: Camden Council's Community Investment Programme development team began working with estate residents, the Tybalds Residents Association, the wider local community and the Green Space and Environmental Services teams to develop proposals to deliver new homes and landscaping improvements on the Tybalds estate additional to the Better Homes programme of repairs and renewals. As a result of feedback from residents, significant changes have been made to the original 2019 regeneration proposals. 
25 Feb – 30 June 2020:  A formal consultation invited all Tybalds residents and stakeholders from the wider Holborn and Bloomsbury community to examine and comment on the latest design and landscaping proposals for regeneration.  Please visit the Tybalds regeneration - Formal consultation page for more information about the formal consultation. 
24 March 2021: Camden Cabinet approval to proceed received.
2 Aug 2021: Application for planning permission submitted. Application reference: 2021/3580/P can be viewed through the Camden Planning web portal - https://planningrecords.camden.gov.uk.  
2 Aug – 14 Dec 2021 Formal public Planning Department consultation
14 Sept 2021: Tybalds Regeneration Exhibition in Blemundsbury community hall. The exhibition boards from this pop-up exhibition are available as downloads in the 'Related' section below. They showcase the designs for the Tybalds Estate regeneration scheme.
17 Feb 2022: Planning application approved by Camden Planning Committee.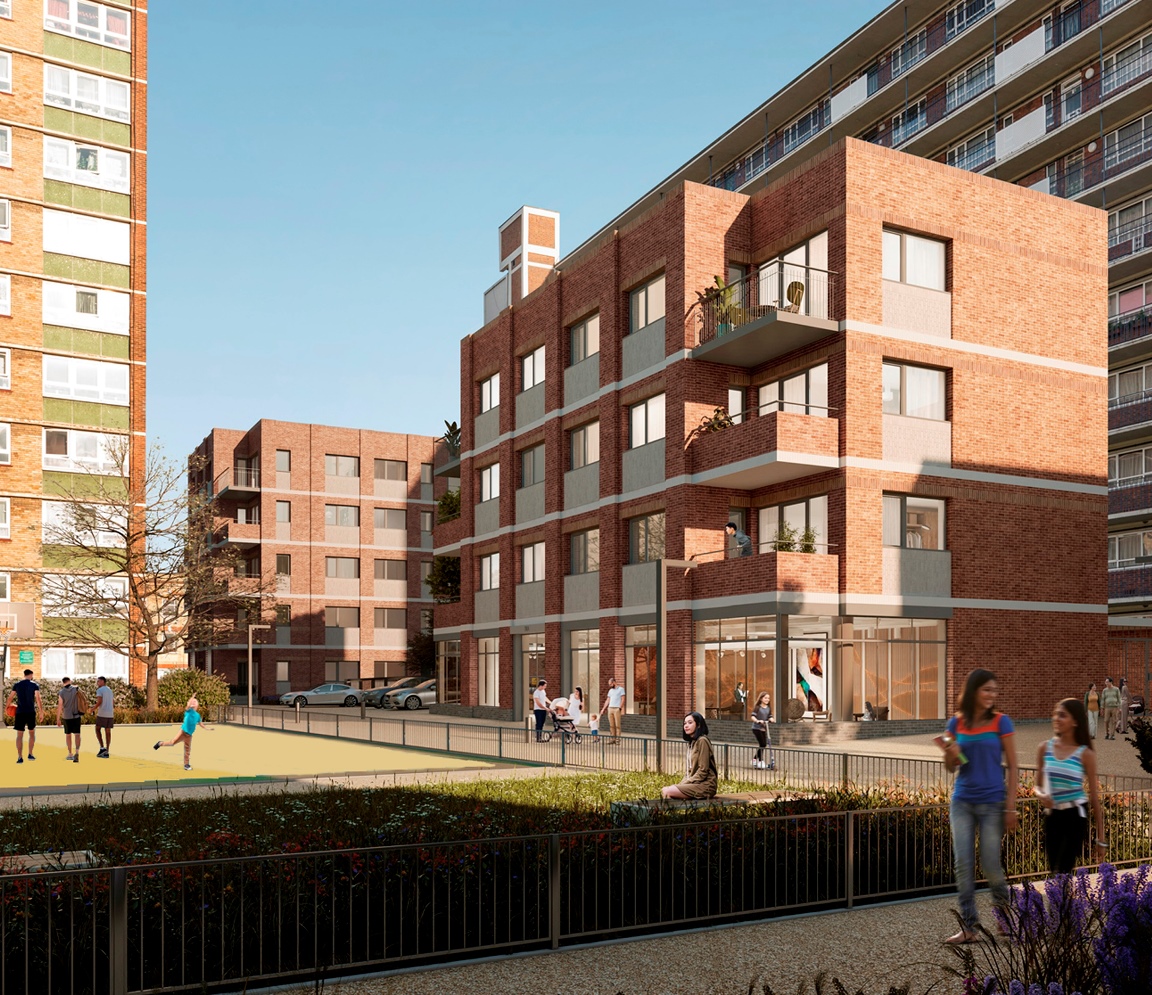 View of Tybalds Square and the new 'Block C' with new community centre on the ground floor (Computer generated image)
______________________________
Other Camden Council work to improve the Tybalds estate
The 'Better Homes' programme of repairs and renewals on the Tybalds estate began in August 2021. For more information, please visit:  https://www.camden.gov.uk/better-homes-tybalds
Camden's Green Space Team completed refurbishment of the Alf Barrett play space in Spring 2022.
Boiler replacement works managed by the Mechanical and Electrical team (M&E) were completed in Winter 2021.
_____________________________
How can I contact the Camden regeneration development team?
Please email queries, ideas and comments about the Tybalds regeneration programme to our project inbox: tybaldsdevelopment@camden.gov.uk
or contact: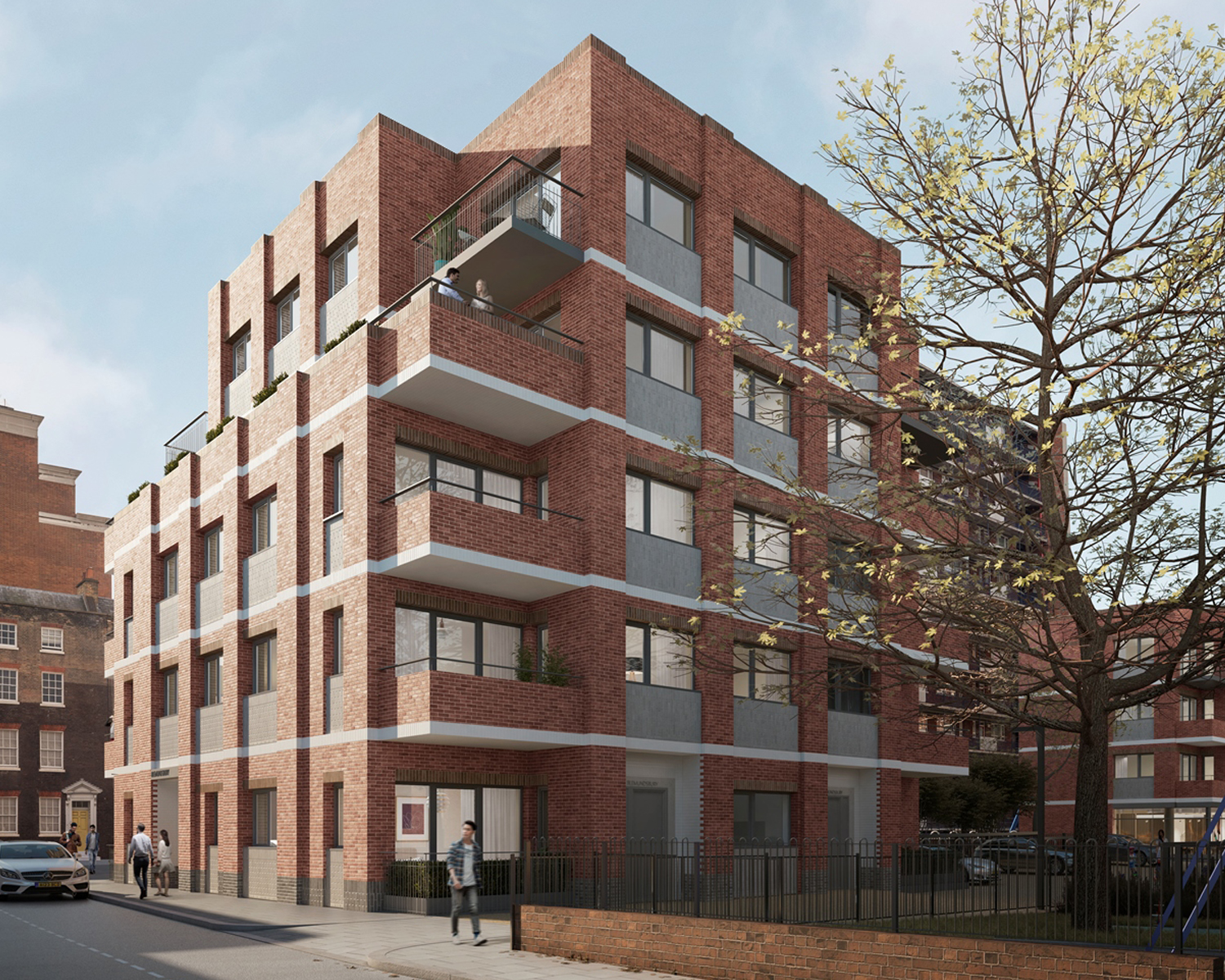 Block B from Orde Hall Street (Computer generated image)